Are you a notary in Arizona looking for an efficient way to perform your duties? In-person electronic notarization, or IPEN, just might be your answer. Every day, more  organizations are taking advantage of digitizing official records.
Currently, Arizona allows electronic notarization (IPEN) and remote online notarization (RON). And, BlueNotary meets the State's standards for both!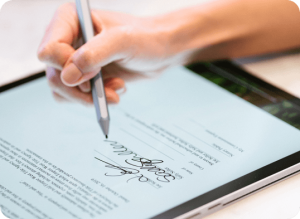 What is In-Person Electronic Notarization (IPEN)?
In-Person Electronic Notarization is a modern approach to the traditional notary process. It combines benefits of face-to-face interaction with the efficiency of technology.
Simply, it's traditional notarization gone paperless. Both the notary and signer must be physically present in the same location, so electronic notarization hugely differs from remote online notarization. Know the difference!
Electronic notarization is in-person and notarial act procedures remain the same. Personal appearance is a requirement. So is verifying the identity of the signer and completion of the notarial certificate by affixing the notary's electronic signature and seal to it.
Unlike RON, electronic notarizations in Arizona don't require any special training any at this time.
Who can perform in person electronic notarization?
Only notaries commissioned by the Arizona Secretary of State have authorization to perform In-Person Electronic Notarization (IPEN) in Arizona.
These notaries must meet certain requirements to obtain their commission, including being a legal resident in the state, completing training and passing an exam to maintain good standing as a notary public.
Even in a digital environment, the notarization process must remain secure and legally compliant with state laws and regulations. Over the years, IPEN has become a valuable tool in the notaries' arsenal. It enables them to carry out duties with improved efficiency and convenience, all while facilitating secure electronic transactions.
To be approved by the Secretary of State to perform IPEN a notary must submit an application with the following information:
Applicant's full legal name
Applicant's email address
A description of the technologies or devices that the applicant intends to use to perform electronic notarizations
The name, address, and website URL of any vendors or other persons that will directly provide the technology
A statement certifying that the applicant has obtained a digital certificate from a qualified certification authority to be used by applicant while performing IPEN and
a statement certifying the technologies described comply with State requirements 
What are the Arizona online notary seal requirements?
Arizona requires specific information on a notary's traditional and electronic seal.
eSeals must include the Notary's commission number. Inclusion of the Traditional Notary commission satisfies this requirement.
How to choose an electronic notarization provider
The first step is understanding your specific needs and requirements as a notary. Always consider factors like user-friendliness, cost-effectiveness, integration capabilities, and regulatory compliance too.
Arizona maintains a list of state approved providers. BlueNotary is currently listed as an approved RON provider and is pending being added to the IPEN provider list. Currently, BlueNotary meets all Arizona state IPEN standards.
Don't shy away from talking with fellow notaries, either. They can share valuable insights! Jump in and connect via BlueNotary's Facebook group; Four thousand notary members and growing daily!
IPEN is a convenient way to get important documents notarized while keeping up with the times. It reduces time and cost of traditional methods as you already have a digital copy of the document.
On BlueNotary's secure platform, we have a secure, encrypted network infrastructure. Users can confidently obtain an electronic notarization! We provide a safe online option to sign and store documents.