Online and Electronic notarization are changing the script on digital closing and digital signings. For those lenders that are choosing IPEN over RON when it comes to their digital closings, they'll need to select a proper provider.
This article compares the differences between EscrowTab, who specializes in Title and Escrow and BlueNotary, who specialized in all things notarization from Loan Closings to on demand Online Notarization.
When it comes to online document authentication, two of the top options on the market are BlueNotary and EscrowTab. Both services provide secure solutions for getting documents notarized electronically, but there are a few differences between them.
EscrowTab
EscrowTab was founded back in 2016 and has gone on to develop their very own tablet device. They have helped pave the way for paperless signing products in the pre-Covid era. Their solution works to be as close to paper as possible and they primarily provide services to mortgage companies, loan officers, and title companies.
Their overall goal of EscrowTab has been to help transition eClosings into the paperless realm and digitize the Loan Closing process. Recently, EscrowTab has decided to create an app in order to make their program available to iPad and Android users as well as those that choose to use their custom made Escrow Tablet
These are the system requirements in order to use EscrowTab.
At present, EscrowTab does not have an eJournal portion of their platform so any journaling would still need to be done manually. They also do not yet have support for General Notary Work.
BlueNotary
BlueNotary started out from the other side of the field, first building out the Online Notary part of their platform before coming back to the simpler In-Person Electronic Notarization.
BlueNotary already requires the highest level of industry grade security in order to satisfy their Online Notarization compliance requirements through MISMO. This is carried over into their new IPEN product. BlueNotary ensures that all documents are verified as authentic and that the signer's identity is verified before signing. They even offer both KBA authentication as well as Biometric authentication.
BlueNotary is capable of offering a wide range of additional services for notarization such as loan signings, digital closings, general notary work and more. BlueNotary also is a web based app that does not require any additional downloads. You could even login and perform IPEN securely from somebody else's device.
BlueNotary comes with a free eJournal for notaries as well as offers full support for General Notary Work, so it's the ideal solution for any notary looking to pick up and go.
For serious enterprise clients, BlueNotary offers API integration which allows lenders to integrate their services into any given platform. This is a great way for lenders to have access to the latest digital document signing and authentication features, without having to build out all the tech or fight through all the compliance hurdles.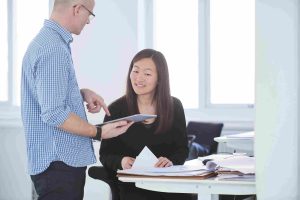 Comparison between BlueNotary vs. EscrowTab
When looking at BlueNotary vs EscrowTab, it's clear that each of the solutions provide different features and offer something unique to their customers. EscrowTab provides a specialized eClosing process, while BlueNotary provides more secure and cutting edge authentication methods for online notarization while also having a faster IPEN flow that they have adapted from their industry leading RON flow.
EscrowTab offers a solution for those who prefer an in-person experience only. Where BlueNotary will offer other more advanced features as one of the leaders in the industry for innovation. For example BlueNotary also lets you do Online Notarization as well if it is allowed in your state and provides decentralized blockchain security in addition to the state required encryption security. BlueNotary is also launching its own complimentary e-signing solution as well.
BlueNotary vs. EscrowTab Pricing
Both services offer a free version of their product. Right now EscrowTab is offering a free version of their product while they are still testing out their GNW functions. EscrowTab does a good job of encouraging and teaching their users to promote and educate Title Companies and potential clients about the benefits of In-Person Electronic Notarization and for that we are grateful.
BlueNotary offers a free version for their Online Notarization platform that only limits the number of signers. Their Pro-Hybrid and Business plans feature every feature an individual notary or enterprise business could ask for. All the same tech of a cross country online notarization packed into the easiest IPEN flow to get you signers papers signed and to get you paid and on your way.
Both services have a per transaction charge for their enterprise clients. Once the service is up and running. In terms of pricing, BlueNotary may be slightly more expensive due to the extra services that it provides, but it also offers more features as well.
In conclusion, both services offer various levels of security and authentication measures as well as an eClosing process for their users. The pricing may be slightly different depending on the features that you need, but BlueNotary offers a wide range of additional services to make it worth any extra money in terms of features and convenience and present day functionality.
BlueNotary vs. EscrowTab Solutions
If you are looking for a loan closing process only and are okay with downloading an extra app then EscrowTab might be the platform that is workable for you. No matter which solution you choose, both companies offer secure and compliant services that will help make document signing much more efficient.
On the other hand, BlueNotary offers a far more robust suite of services that cover both in-person and online notarization, as well as e-signing. It is also the only one to offer blockchain security for authentication. Its sheer range of features make BlueNotary an ideal choice. BlueNotary also does not require specific system requirements due to its web-based foundations and is already operating for General Notary Work across all devices tablet or PC based for IPEN.
To conclude, both EscrowTab and BlueNotary provide great solutions for those in need of electronic notarization and signing. While some people are happy to hop online and join the RON revolution, others still prefer to meet in person. Now with EscrowTab or BlueNotary IPEN, you no longer have to waste time digitizing documents and you can help save trees!
While each platform provides different features and services, you should choose the one that fits your needs best. If you need more secure authentication methods or faster turn around times then BlueNotary might be the best choice for you.