Are you a notary in North Carolina looking for an efficient way to perform your duties? In-person electronic notarization, or IPEN may be your answer. Every day, more and more organizations are taking advantage of digital signatures and digitizing official records.
Currently, North Carolina only allows electronic notarization (IPEN), not remote online notarization.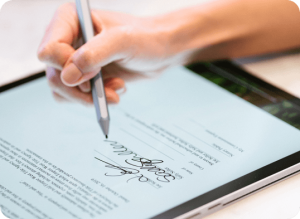 What is In-Person Electronic Notarization (IPEN)?
In-Person Electronic Notarization offers a modern, efficient approach to the traditional notary process. IPEN combines benefits of face-to-face interaction with the convenience of advanced technology.
Simply, it's traditional notarization gone paperless. Both the notary and signer must be physically present in the same location, so electronic notarization hugely differs from remote online notarization. Know the difference!
Integrating technology and traditional notary streamlines the entire notary process. Storage and retrieval of notarized records is immediate. Using eSignatures and a secure electronic notary platform also mitigates  potential for errors.
North Carolina has specific electronic notary procedures, including mandatory training and background checks for in-person electronic notaries public, ultimately creating a seamless blend of traditional legal procedures and cutting-edge technological advancements.
Who can perform IPEN?
Only notaries commissioned by the North Carolina Secretary of State have authorization to perform In-Person Electronic Notarization (IPEN) in North Carolina. These notaries must meet certain requirements to obtain their commission, including being a legal resident in the state, completing training and passing an exam to maintain good standing as a notary public.
Even in a digital environment, the notarization process must remain secure and legally compliant with state laws and regulations. Over the years, IPEN has become a valuable tool in the notaries' arsenal, enabling them to carry out their duties with improved efficiency and convenience in facilitating secure electronic transactions.
What are North Carolina's IPEN requirements?
Data & Document Formatting must comply with state standards, G. S. §47-14(a1)
Security – document transfers must be encrypted. Use of VPNs and/or SSL certificates are recommended.
Document submitters shall be recognized and authenticated as trusted submitters and shall create a Memorandum of Understanding in accordance to G. S. §47-14(a1).
Recorders need authentication policies and protocols to ensure the integrity of the transmission process.
Appropriate notification of a document recording or rejection of an electronic document may be provided to electronic document submitters by recorders.
Registers shall have security backup policy and procedures in place, and a Service Level Agreement for disaster recovery.
Which IPEN provider should you use?
The first step is understanding your specific needs and requirements as a notary in North Carolina. Consider factors like user-friendliness, cost-effectiveness, integration capabilities, and regulatory compliance.
BlueNotary meets all North Carolina IPEN standards and is currently pending State approval!
Don't shy away from talking with fellow notaries, either. They can share valuable insights! Connect on BlueNotary's Facebook group – Four thousand notaries and growing daily!
When it comes down to making a decision, trust your intuition and all the knowledge you've gathered along the way to pick the best electronic notary solution for your practice. Happy notarizing!
IPEN is a quick and convenient way to get important documents notarized, reducing the time and cost of traditional methods. BlueNotary is currently leading the industry with its best-in-class IPEN services, making document preparation and attention to detail fast and efficient.
On BlueNotary's secure platform and encrypted network infrastructure, users can confidently obtain an electronic notarization easily and without worry.