What is a DAN? A Document Authentication Number or DAN is a unique identifier code online notaries affix to documents notarized via in-person electronic notarization, or IPEN.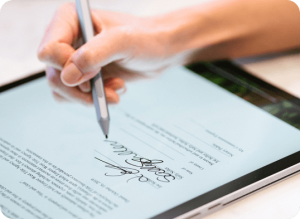 What is a DAN?
The "DAN"-Document Authentication Number is the electronic equivalent of using an embosser or rubber stamp seal. Electronic notaries must include a unique DAN on each document.
Composition of"DAN" 20XX1234567– XXXXXX \
Notary Certificate Number– Randomly assigned numbers
11 digits 6 digits
Running out of unique DANs? Colorado electronic notaries can obtain more DANs as needed through their secretary of state portal.
What is In-Person Electronic Notarization (IPEN)?
In-Person Electronic Notarization is a modern approach to the traditional notary process. It combines benefits of face-to-face interaction with the efficiency of technology.
Simply, it's traditional notarization gone paperless. Both the notary and signer must be physically present in the same location, so electronic notarization hugely differs from remote online notarization. Know the difference!
Electronic notarization is in-person and notarial act procedures remain the same. Personal appearance is a requirement. So is verifying the identity of the signer and completion of the notarial certificate by affixing the notary's electronic signature and seal to it.
Unlike RON, electronic notarizations doesn't require any special training any at this time.
How does IPEN work in Colorado?
Currently in Colorado, a notary must be approved by the Secretary of State to perform electronic notarization. The notary must submit the form "Notification of Intent to Notarize Electronically" to the Secretary of State.
When approved, the notary will receive via email 50 Document Authentication Numbers (DANs). The notary should insert one DAN in each electronically notarized document. Don't worry, though. If you start to run out, you can always get another set of unique DANs from the Secretary of State website.
1. Identify the signer using "Satisfactory Evidence"
2. The signer acknowledges the document was signed by him or her, in notary's physical presence, or the notary would administer an oath or affirmation 3. Complete notarial certificate
4. Notary attaches a "DAN"– Document Authentication Number 5. Notary records transaction in journal, including the DAN used.